Cfcu4u community involvement
Corry Federal Credit Union performed 60 Acts of Kindness throughout 2018 in celebration of our 60 Years of Service! See each Act here and with #cfcu4u on Facebook, Instagram, and Twitter. If you perform an Act of Kindness share your photos on social media and use #cfcu4u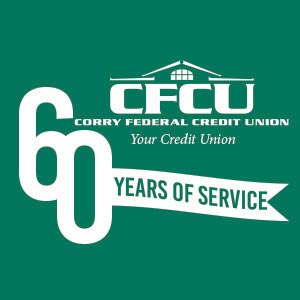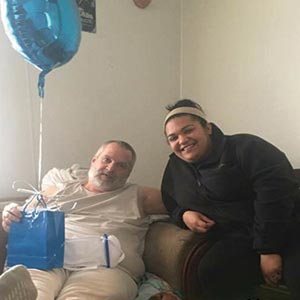 Our final Act was to give someone $100 who also did an Act of Kindness in 2018 and shared it on social media with #CFCU4U. Our member, Desiree, was randomly selected to win! On her own birthday, she selflessly visited a co-worker after he had surgery.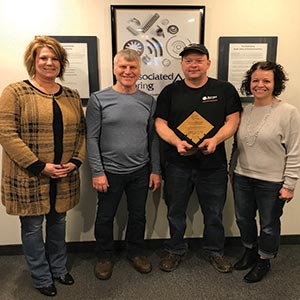 For our 59th Act, we paid homage by giving a diamond plaque to the place that started it all! Thank you, Associated Spring, for getting this credit union started in 1958!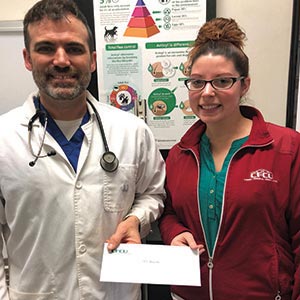 We took the very last bit of our Act of Kindness budget ($180) to the Union City Pet Hospital. Dr. Chapman assured us they will put it towards a bill for a family pet they know is in need of financial help.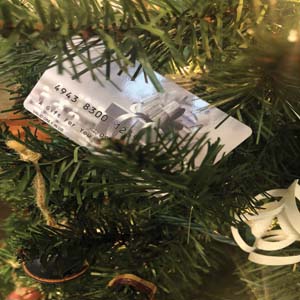 A lot of our members work really hard to provide for their families, and we know the holidays are especially is difficult on some of them. In addition to our normal yearly giving to a few families we know are in need, we gifted another Visa gift card to a family in hopes that they are well cared for.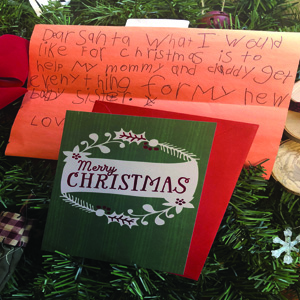 This letter to Santa was so selfless of this little one, asking just for presents for her new baby sister. We decided to help her parents get some presents for both of their little ones with a Visa gift card.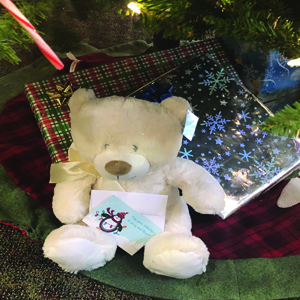 We received so many great letters to Santa but decided to surprise one little boy who only asked for a teddy bear. Knowing the financial situation of his family, he really could have asked for a lot more, so we also surprised him with a Visa gift card.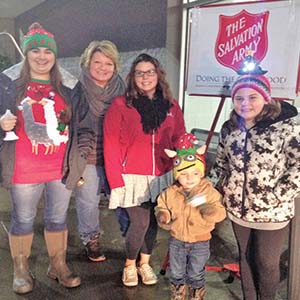 We were one of 10 groups to participate in the Corry Police Salvation Army Red Kettle Bell Challenge. We rang the bells at Corry Walmart on Monday, December 3rd. We took third place in the Challenge by raising $381.19.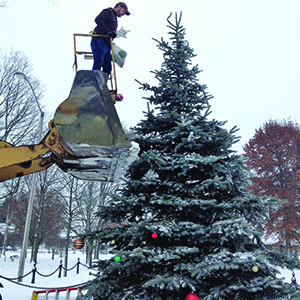 After learning our blue spruce trees that line our drive thru in Corry were out-growing their space, we decided to hold off on cutting them down until one could be used for the Christmas season. We teamed up with the Corry Chamber of Commerce, City of Corry Public Works, Leroy's Towing, and local landscaper, Sam Baressi to cut our trees down and have one hauled across town to be used as the City's Christmas tree for a Very Merry Corry Christmas.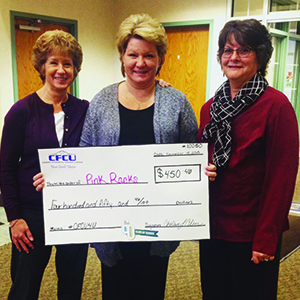 We held a fundraiser in honor of our three staff members who beat breast cancer, Sue, Staci, and Sharon. We raised $450.46 for Pink Racks, a local organization that helps support people in the Corry area as they fight against cancer.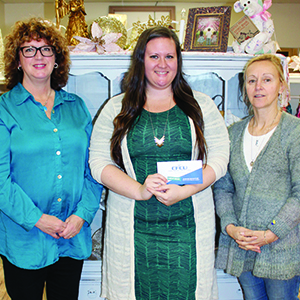 We teamed up with the Downtown Corry Business Association and purchased six $10 gift certificates that could be used at any DCBA affiliated shop. The gift certificates were hidden in DCBA shops and we encouraged the community to go out to find them and shop local on Small Business Saturday.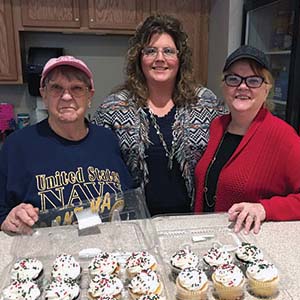 Sarah braved the snow to take cupcakes to the Union City Legion for their monthly lunch and games meeting with the Soldiers and Sailors House of Erie in November.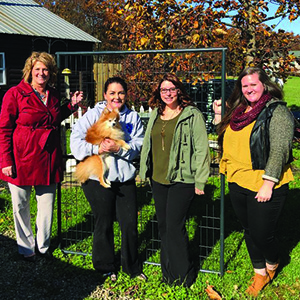 After hearing Critter Camp & Cuts in Union City needed some help expanding their rescue section, we bought them a dog kennel to use.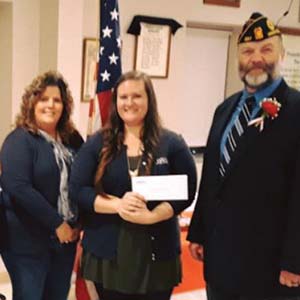 We were invited to the Union City Legion's Annual Veteran's Day Dinner and made a donation of $200 to the Committee for Ethical Treatment of Veteran's in their honor. CET-Vet helps veterans struggling with PTSD in Erie County.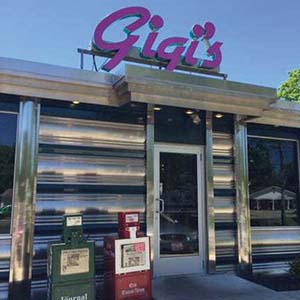 On Veteran's Day we offered to purchase coffee for any Veteran who went to Gigi's Rt. 6 Diner that day and we ended up buying coffee for 67 veterans!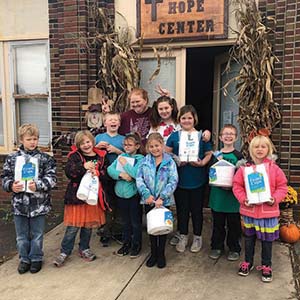 We heard the Hope Center was in need of cups, plates, and silverware for their after-school meals program, so we stopped by to surprise them with some.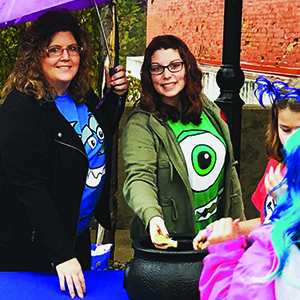 Sarah and Kara passed out goodies to trick or treaters in Union City during Treats in the Streets on Halloween.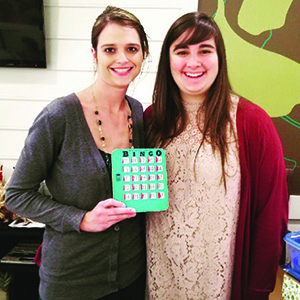 Meagan, Michelle, and Nancy (not pictured) had a great time visiting and playing bingo with residents at Corry Manor.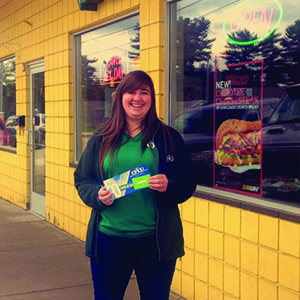 We handed out Subway gift cards to the first 6 people we saw heading in to the Subway in Corry to help pay for their lunch.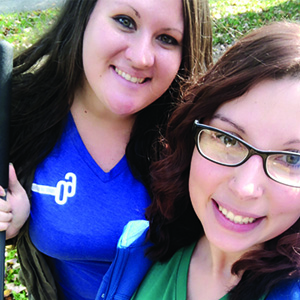 Chelsea and Kara got to enjoy the crisp fall weather by helping rake leaves in a Union City playground in October.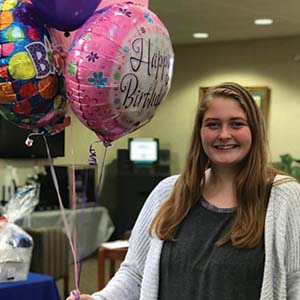 October 16, 2018 was our official 60th Anniversary and was also Catie's 18th birthday so we surprised her with balloons!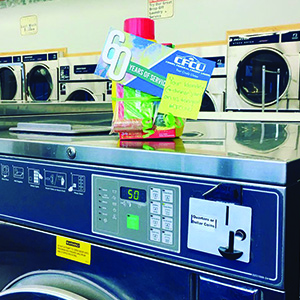 We left laundry essentials and some rolls of quarters at the laundromats in Corry and Union City in September.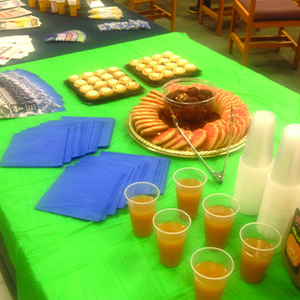 We provided some yummy fall treats and information about SHERPA Identity Theft Protection for all attendees at the Corry Public Library's "Be Scam Smart" seminar.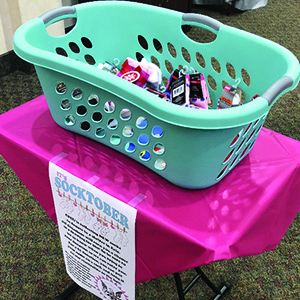 Throughout October we participated in Socktober to collect new socks to give to a local homeless shelter.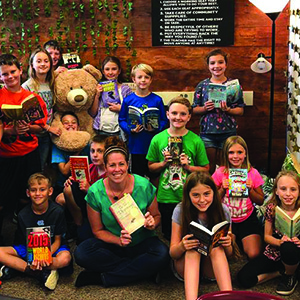 We sponsored 6 students in Shannon West's class this year to receive a free book each month from Scholastic Book Club all school year long! Shannon was able to secure a sponsor for all 46 students in her class this year!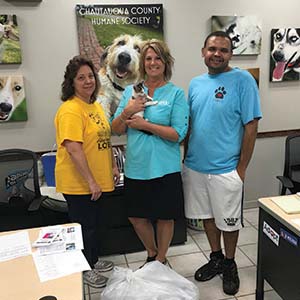 After collecting 10 bags of shred, Stacey took it to the Chautauqua County Humane Society to use for bedding.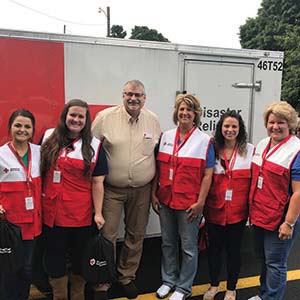 A small group of us got to volunteer with the American Red Cross and their Sound the Alarm campaign! We helped install over 95 smoke detectors in the Corry area.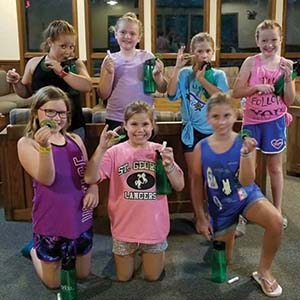 Girl Scout Troop #36463 took a camping trip in August so we gave them water bottles, chap stick, and fidget spinners for the long car ride to get there. Looks like they had fun!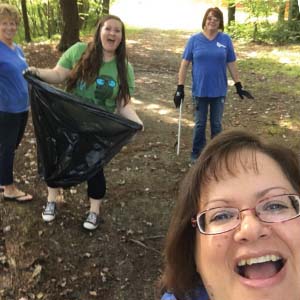 Sue, Chelsea, Nancy, and Robin took advantage of the nice weather in September to clean up some trails throughout Mead Park.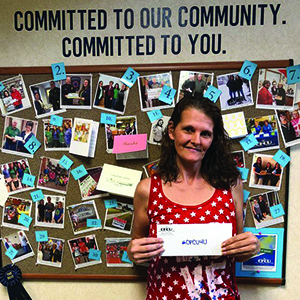 Tonya Conner was randomly selected out of our Facebook Group to win $60 for helping us reach more people by adding her local friends and family to the group. Join our Facebook group by searching for #CFCU4U.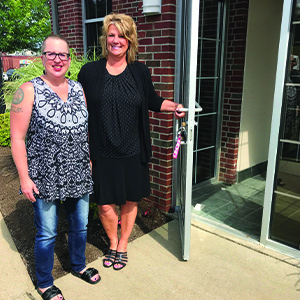 We donated our spare tenant space at our main location for Project Empathy to use to sort donated winter wear to use for their Winter is Coming Project. This project gives people in our community the winter wear for free.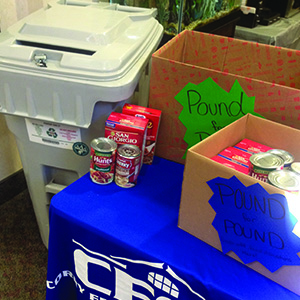 Our annual Pound for Pound challenge helped us donate over 200 pounds of non-perishable food to the Corry Area Food Pantry and the Union City Food Pantry this summer.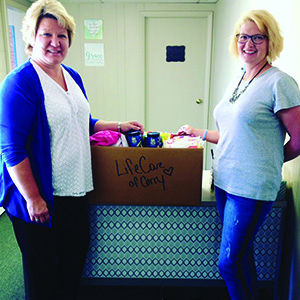 After our staff collected baby items for a couple weeks, we donated everything to LifeCare of Corry so they can help more new parents and babies who utilize their resource center.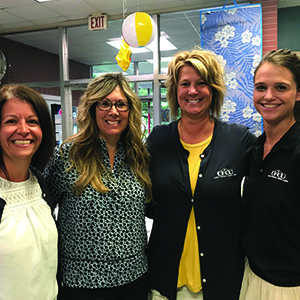 The YMCA of Corry hosted its annual YMCA Advocates Day in August and Jean, Stacey, and Meghan helped serve lunch to all of the YMCA attendees and supporters that day!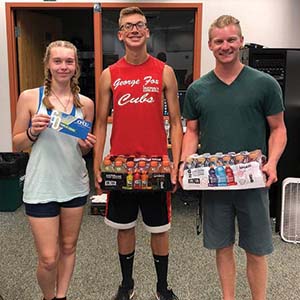 We dropped off a bunch of Gatorade with the Union City Marching Band during band camp to show our support of their music program and wish them well for this upcoming season!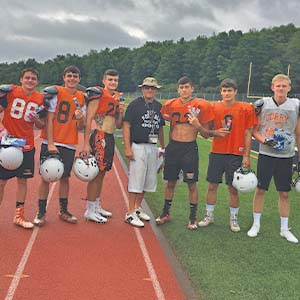 We visited the Corry High School Football team during their last summer practice to give them Gatorade energy chews and wish them good luck in their 2018 season!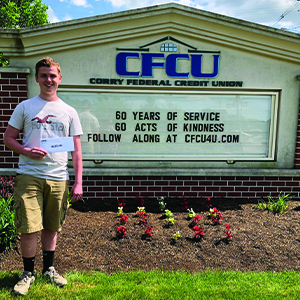 We helped Michael raise $200 through our Facebook page for his student exchange expenses and now he's off learning in Germany!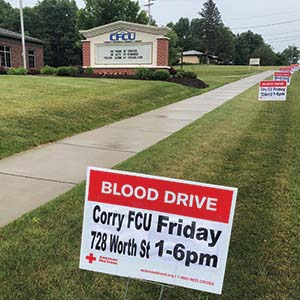 The American Red Cross brought the bloodmobile to our Corry location to hold our first ever blood drive in June.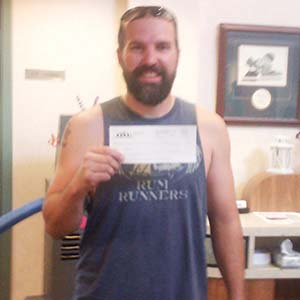 Gary Whitely was randomly selected to win $60 for being one of our blood drive donors!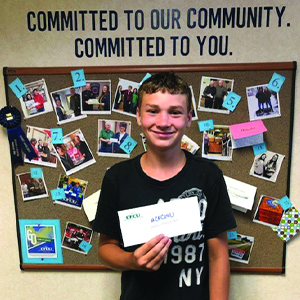 Jackson Redlecki spent some time with us throughout Youth Week, so we surprised him with $60 to help his Grow With Us account grow even quicker!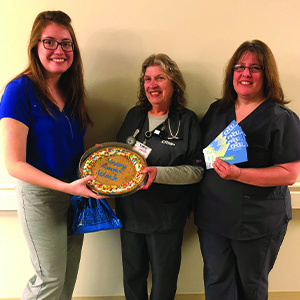 We stopped in at LECOM Health, Corry Memorial Hospital to thank the ER nurses on Nurse's Day with cookie cake and hand sanitizers!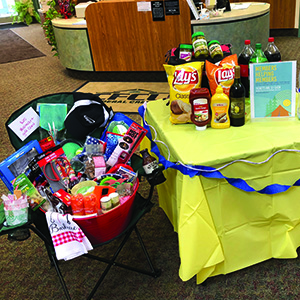 After hearing a dear member of ours was diagnosed with cancer, we all joined together to create our largest raffle basket ever and raised over $300 for his medical expenses.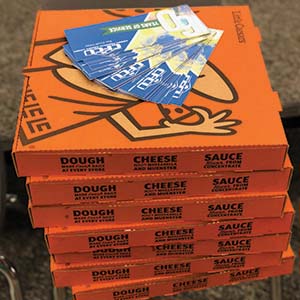 During dress rehearsal week, we surprised the cast and crew of The Little Mermaid at Corry High School with pizzas!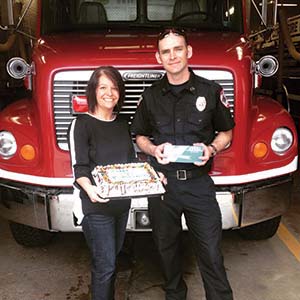 To say thank you to the firefighters in our area, we gave them a cake on Firefighter Appreciation Day!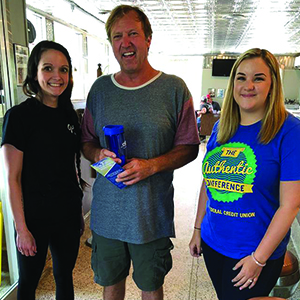 Jim, a former Corryite, stopped in Gigi's for breakfast and told his waitress how he missed small towns and the nice people in them. She called to let us know, and we bought his meal and gave him a CFCU tumbler.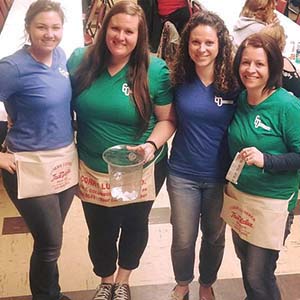 Leslie, Chelsea, Kelly, and Jean helped raise money for the Corry Chamber of Commerce at their Raffle Dinner.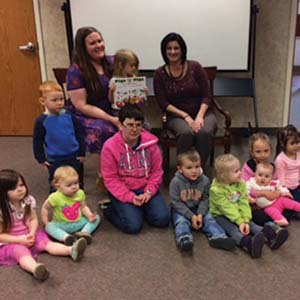 We spent Teach Kids to Save Day with some children at the Union City Library. We read a story about saving together and made piggy banks as a craft.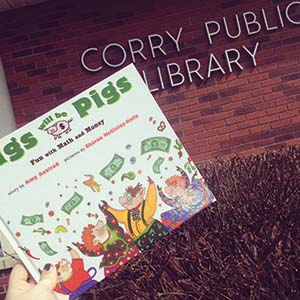 We didn't want to leave the children of Corry out of Teach Kids to Save Day so we repeated it the following week at the Corry Public Library! Both libraries were also gifted this book.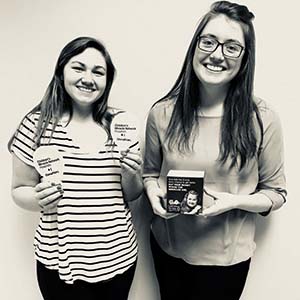 Raising money for Children's Miracle Network during April.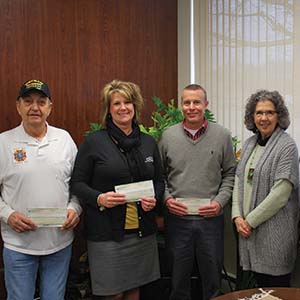 We joined the Corry VFW & Rossbacher's to help support the Village Friends Garden Tour!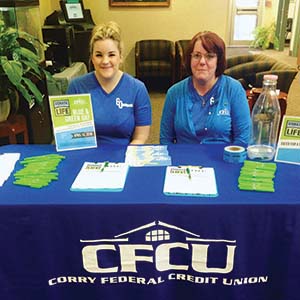 We celebrated Blue & Green Day with Donate Life and helped register new organ donors.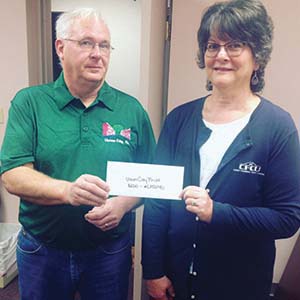 We surprised Union City Pride and the Downtown Development board members with a check for $200 to help with their community enriching initiatives in Union City!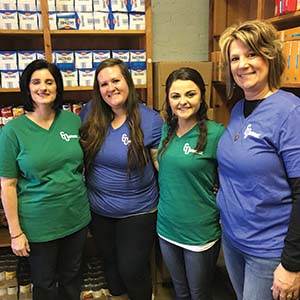 Trish, Chelsea, Molly, and Stacey spent the day at the Union City Food Pantry to help stock the shelves and pass out boxes of food to those in need.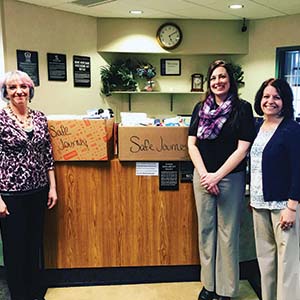 Our staff got together to donate two large boxes full of personal care items to give to Safe Journey! Their staff also presented to us about the signs of domestic and financial abuse so we can better serve our members.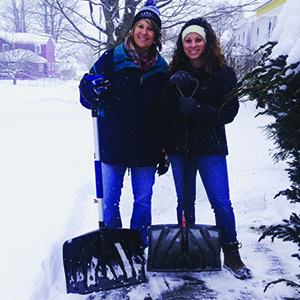 Stacey Heiser, CEO and Kelly Soety, CFO, helped some seniors in need by shoveling their sidewalks and driveways on a snowy Friday morning in February.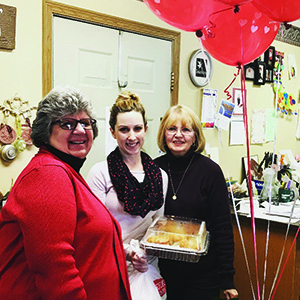 Knowing how busy our local florists are on Valentine's Day, we brought Bloomers in Corry and Green Acres in Union City some lunch from the Library Bar & Grill.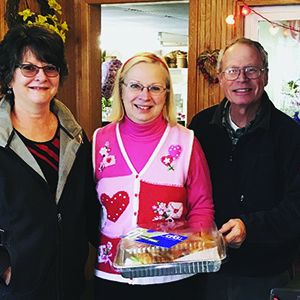 Knowing how busy our local florists are on Valentine's Day, we brought Bloomers in Corry and Green Acres in Union City some lunch from the Library Bar & Grill.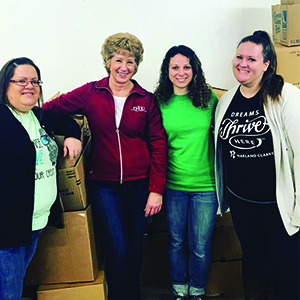 Some of our staff spent the morning volunteering with the Corry Food Pantry's distribution day! They're always looking for volunteers every third Thursday and Friday of the month!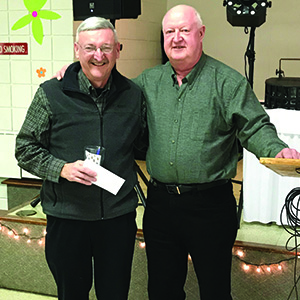 At our Annual Dinner Dance, we randomly selected one member to win $60 cash! Terry Brumagin, pictured with our Board President, Joe Kasper, was our lucky guest!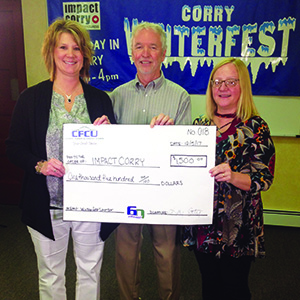 We proudly presented a check for $1,500 to Impact Corry to be their Platinum Sponsor of their 7th Annual Winterfest event! Impact Corry brings community-enriching initiatives to Corry all year long!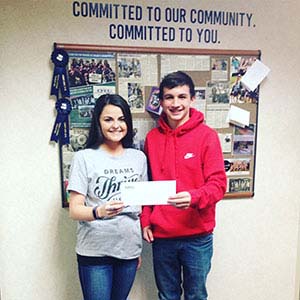 We gave Jacob $60 for being the first person to create a new account with us is 2018.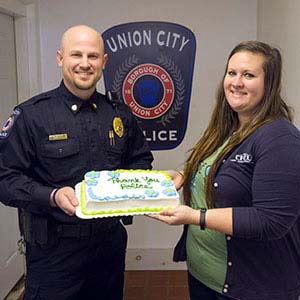 We gave the Corry and Union City Police Departments cakes on Police Appreciation Day for their dedication to our community!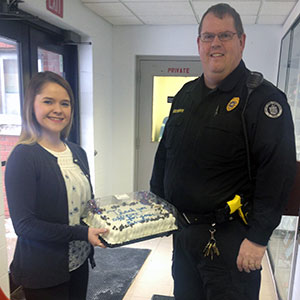 We gave the Corry and Union City Police Departments cakes on Police Appreciation Day for their dedication to our community!